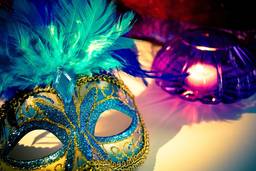 Are you planning a party but you're not sure where to start? Follow these ten simple steps to plan your party.

1. Choose a theme
The easiest place to start is to keep in mind what the party is for and choose an appropriate theme. Some popular themes for 18th and 21st birthdays include masquerade or black and white ball, Hollywood Glamour party, Toga party, pirate party, Disney party etc. You could even theme it around the purpose – for example, a retirement party, or 25th Anniversary etc.

2. Write your guest list
Choose who you would like to attend the party. Think about all the people who will help you (or the guest of honour) to have a really good, memorable time. Once you have written a list of all your guests, add them all up – this is the number of people you will be catering to.
3. Choose and send out invitations
Once you know who you're inviting (and keeping your theme in mind when choosing the invitations), start sending the invitations out – particularly if you're posting them. This allows time for them to be received and time for people to respond. Don't forget to ask your guests to RSVP by a certain date – it will help with your planning.
4. Pick theme-related decorations
It's always fun when you theme a party to choose decorations that match the theme. If you're having a Hollywood Glamour Party, you may like to call a few theme hire businesses or places that offer furniture hire to see if they have a life-size Oscar award for hire. It will help build the mood and theme, and also surprise your guests!
5. Plan your menu
What are you going to eat at your party? Again, you may like to cater to your theme, for example, if you're having a Disney party, small cakes with Disney Princesses on them are always a hit with young girls! You can find caterers and cake decorators by searching our directory for caterers.
6. Decide on the entertainment
The right entertainment will help make your party memorable, particularly if your guests like it as much as you do. From a photo booth, jukeboxes and DJs, through to live entertainment – you can find it all on our directory by searching for entertainment.
7. Check the RSVPs
Check the RSVPs you have received the day after the deadline you gave to your friends. This will help you finalise the numbers and decide if you can host the event at your house or if you will need to move to a venue. It will also assist with finalising the budget you have to work with.
8. Choose a venue
Occasionally you may like to host an event at a venue and this can be a lot more convenient than hosting it at your house – with limited mess and less things to worry about. Book an appointment with a venue manager to discuss if their venue is best for your event.
9. Set up early
Start setting up the event as early as you can (the day before is not too early – however, to leave it to an hour before the event, it may not give you enough time!) Make sure your entertainment is in place and have a sound check if needed. Event managers can be very helpful with assisting you to set up your event.
10. Enjoy your party!
The best tip we can give you is with enough preparation, all you really need to do is enjoy the company of the people who show up, enjoy the entertainment and have a good time. Focussing on everything that works well, tastes good and sounds good will help you to have a wonderful time!
You may also like to download a party planning checklist off the internet to assist with your planning.
Visit the PartiesandCelebrations directory to find event planners to assist with organising your next event and businesses who can provide all your party needs!